Online Retrospective Tools For Scrum Masters and Agile Teams
Want to choose the right retrospective tool for your remote, distributed, or in-person teams?
From Free Online Retrospective tools to Enterprise ready apps for serious agile teams.
Here's a comparison of the top 9 online agile retrospective tools to help you choose the right one for your team - without the hassle of endless research.
We get it, running an agile retrospective meeting can be a challenge. We were tasked by my company (which shall remain unnamed) to compare the various online agile retrospective tools for our to use when running retro meetings so they can pick the right one for them. After relentlessly scouring the internet, we put together a comprehensive comparison table and breakdowns of the pros and cons of the top 9 tools available.
People tend to use retrospective meetings as an outlet to complain and bicker about their problems instead of actively trying to solve them. So as a BA turned scrum master working with a small team of other scrum masters, working with a few face-to-face, distributed and remote teams. We wanted something that was people-centered, action-oriented, and tech friendly.
After getting great feedback from one of Our companies as to how valuable this resource was for making a decision on which online agile retrospective tool best suited the company's needs and wants of an online retrospective tool. We decided to share my notes online as a little weekend project to help anybody looking for an online agile retrospective tool but aren't quite sure which one to choose without the hassle of endlessly researching.
Here are our notes on the 9 retrospective tools that offer an online solution that can either augment, speed up or replace the more manual sticky note process. Now, there are certainly more than 9 out there, so my selection criteria were that they are designed standalone tools, had an appropriate level of security and were more than just a list builder or collaborative whiteboard. If you already use a mandated, company directed tool in JIRA or Confluence add-on, then this list might not apply to you.
Pros and Cons of Agile Retrospective Tools
Agile retrospectives made easy, effective, and engaging.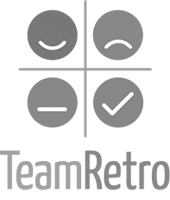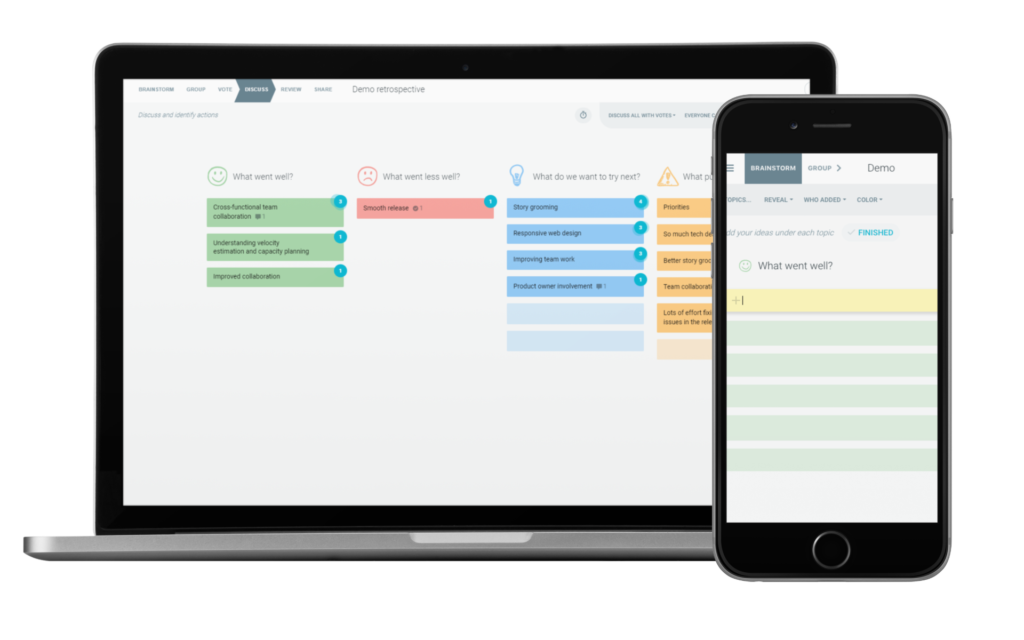 What they have to say
"TeamRetro is an enterprise-ready agile retrospective and health check tool for continuous improvement. Use in-built guided facilitation techniques to run worthwhile meetings. Each and every time."
Pros to using TeamRetro
Easy and effortless, TeamRetro really is a very well designed and intuitive tool for running team retros as well as team radars and health checks. (It's also the one we went with.)
The templates can be customized and replicated for reuse and there is a guided workflow for scrum masters and teams to help facilitate them towards discovering actionable solutions to a problem.  It's enterprise-ready with SSO/SAML and integrates with JIRA, Asana, Trello, Slack, and others and is also mobile-friendly.
There are some nifty features like ideas sorting, grouping suggestions and a presentation mode as well as the ability to manually colour or highlight ideas. The fact that all your action items are linked to an idea and end up in a single perpetual list as well as for each retro makes post workflow management straightforward. The data collection techniques and variety for Radars and Health checks also means you can identify any issues and track progress over time. It has the right level of configurability and ease of use.
It has features to help engage the team from anonymous brainstorming and voting, allowing to add some sweet Gifs and reactions, through to being able to propose and accept action times as well as team agreements about how you can continue to work better together.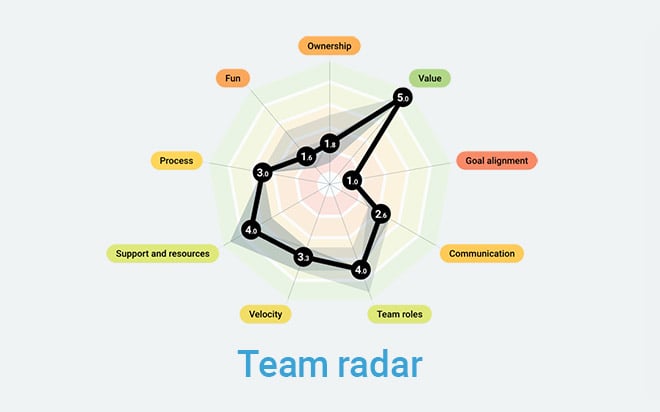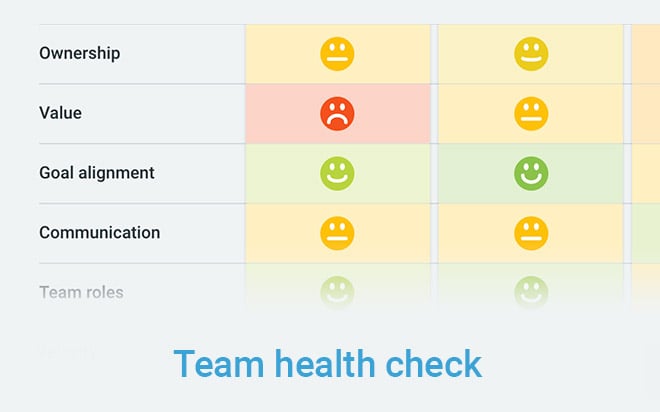 Cons to using TeamRetro
It's hard to fault the current service offering for TeamRetro. Picking around the edges it doesn't include a mood checker if you do that at each meeting. It doesn't have a free version (just the standard 30-day trial) but it suits those teams that run retrospectives seriously. And while it's not free, it's the same price if not cheaper as the next "free" tool that ends up charging to access their premium features. The Team Health checks let you use icons (just happy, neutral or sad) and numbers and visualize that but you can't add in your own icon sets. But for the vast majority, this really is nice to have.
TeamRetro testimonials
"I used Team Retro for the first time with my team and I'm in awe about this product. It's practically EVERYTHING a retrospective tool for a remote team needs to be, look and feel like. Easy to use and intuitive, encourages collaboration, has a well located timer with an intuitive design, the discussion and action taking functions are brilliant in terms of design and implementation. Overall, I'm very impressed with Team Retro and so is my team. Team Retro is hands down the best retrospective tool I've used for remote teams so far. Really well done."

Molood Ceccarelli
Founder of Remote Forever
"We've recently been using Team Retro and I've found it really useful and prefer it to GoReflect which I'd used for a few years (and ScatterSpoke before that)."

Chris Tromans
The Cambridge Crystallographic Data Centre
Continuous retrospectives for agile improvement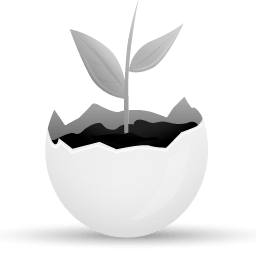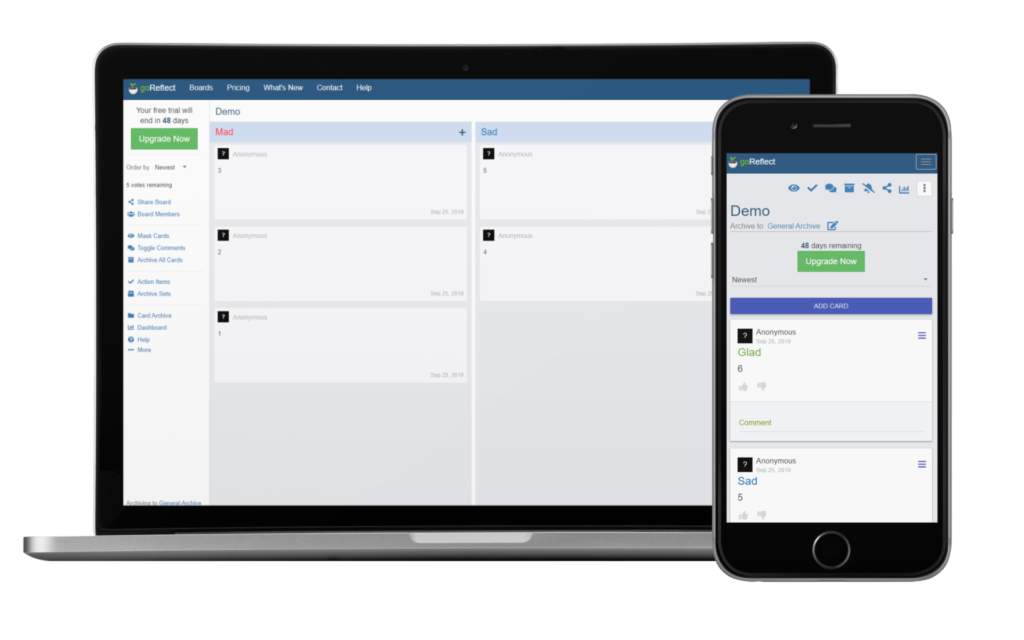 What they have to say
"Why wait for the retrospective to share your ideas for improvement with your team? With goReflect, you can share ideas anytime, anywhere."
Pros to using GoReflect
GoReflect position themselves as a perpetual retrospective board, including a Stream style board that allows people to add ideas at any point. So there's no start and end to a retrospective or facilitated flow but an ongoing retrospective board that allows you to post ideas, comments, likes (votes) and GIFS. The retrospective meeting itself would either not be needed or be used to do sense-making of the information that is actually in the board.  However, they state that having an open board allows for posting, updating and changing votes at any time, not just at the time of the retrospective. Pricing ranges from $2.67(1-49 people) to $1.87 per user (2000+) per month and they offer a 100 day free trial.
Cons to using GoReflect
If your team essentially works with a perpetual retrospective and you aren't too worried about too much information to manage, then goReflect is a good way to simply pick up from where you left off last time and to update the same board. You'll have to manually archive items that are old and it does mean that you will have to pick and stick to one format for the length of a project. While they have built in template headers for general brainstorming, innovate and party planning, there are no health checks or different retrospective styles. Essentially if your team is looking for a Trello like perpetual board that produces a dashboard of cards and action items then it might be worth checking out goReflect. It was hard to see what integrations into other workflow existed at the time of checking it out.
GoReflect testimonials
"In my constant struggle to find the best tools for remote work I met goReflect and it worked so well I will definitely keep it in my toolbox for some time."
Tomek's blog
Improve with fun sprint retrospectives (Formaly known as FunRetro)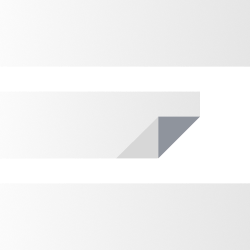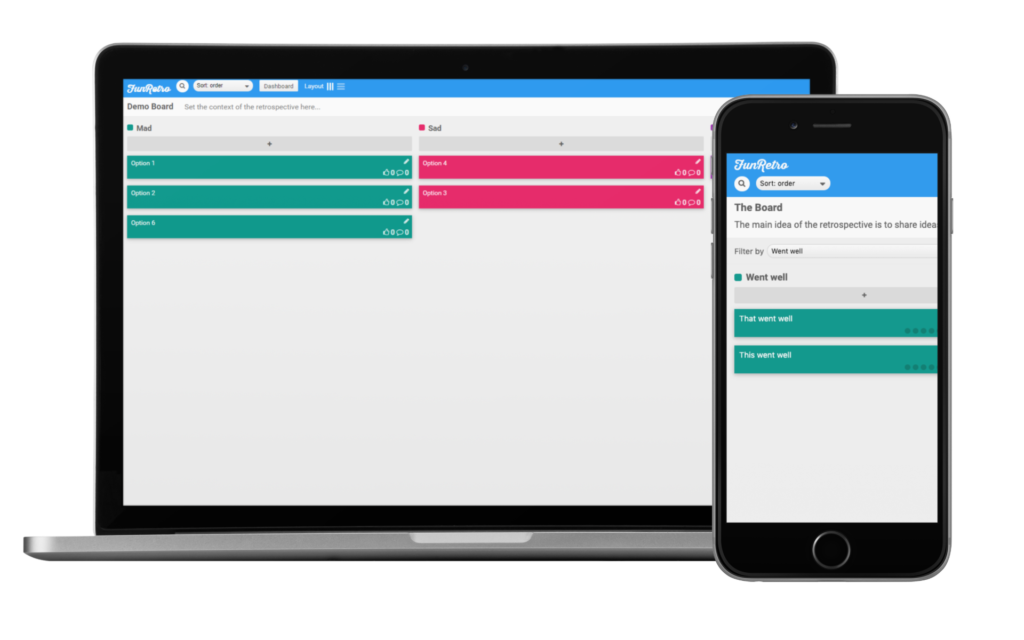 What they have to say
" Collaborate with your remote team and get better in what you do with a simple, intuitive and beautiful tool "
Pros to using EasyRetro
EasyRetro is relatively lightweight and offers up to 3 free public boards which lets you share a URL with your team to get started straight away. If you aren't too worried about security then the free version is worth checking out. However, it does have some feature limits as opposed to the paid plan. The interface is relatively simple and they provide the ability to clone templates you have created. You can toggle names and comments on and off. You can still customise the headers and they have special cards where you can create polls or surveys as a card on the board.
Cons to using EasyRetro
While it's called previously called'FunRetro' there's nothing specifically fun that's built into it. Just like the other tools, you can customize retros with your own headers. In terms of the change of name to EasyRetro, it reflect better the simple functionality that it supports. Because it doesn't have specific workflow built in, it does mean extra vigilance is needed to facilitate the team as you move through the process. We couldn't unmerge ideas that were grouped and you do have to create a separate column to capture a list of actions. There are limited integration options and there are no private boards in the free version. They also offer only a 7 day trial.
EasyRetro testimonials
"It's easy, it's lightweight, it does what I need it to do. It's the best real-life paper replacement I could find on the web."

Henrik Mitsch
Open Innovation at Mozilla
Think better together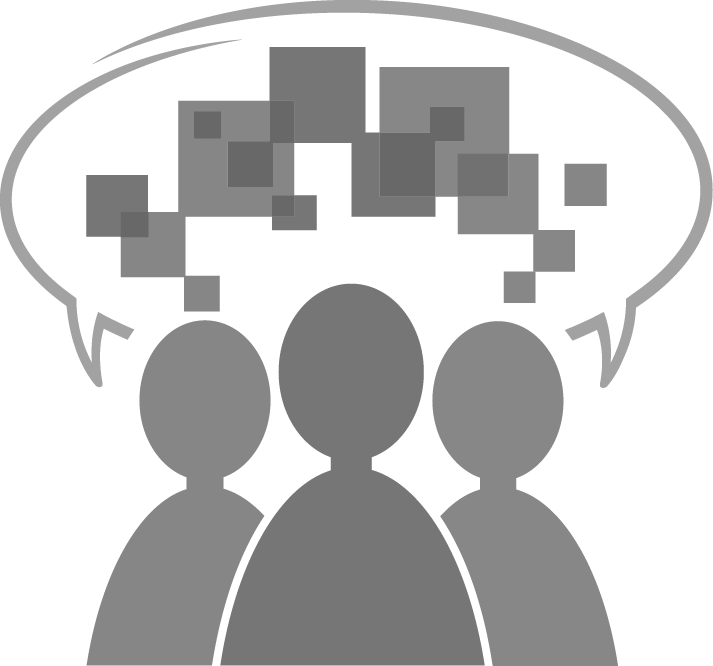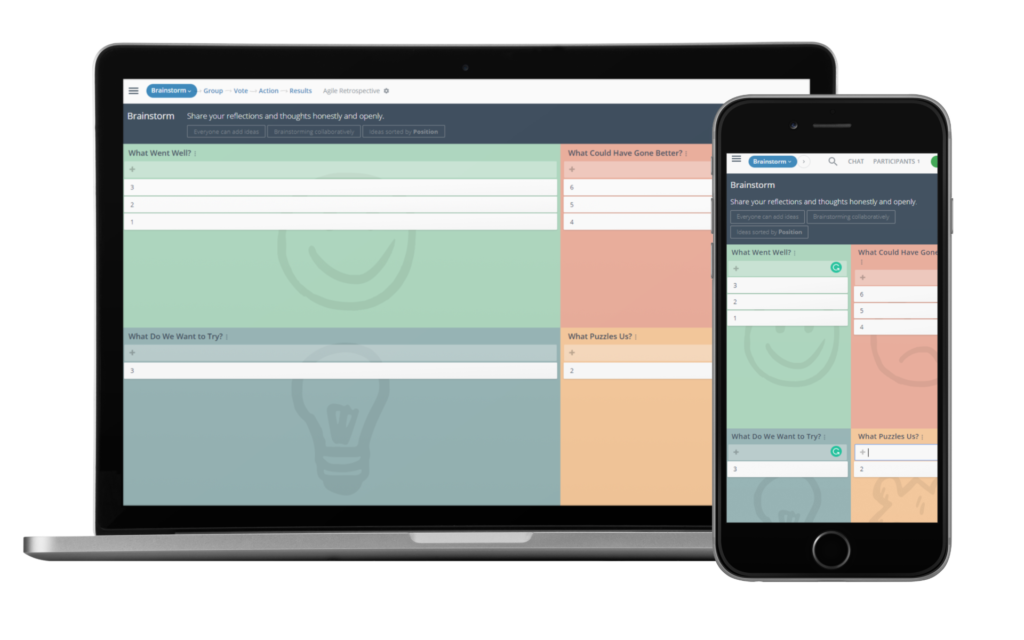 What they have to say
"The effective way to plan, brainstorm, discuss and decide – GroupMap helps your team think better together."
Pros to using GroupMap
GroupMap is a really interesting tool. They are primarily a brainstorming and meeting collaboration tool with a huge range of templates, and customisable options that leaves you spoilt for choice. You can even add your own background image to brainstorm around and there are lots of facilitator options to manage participants, workflow and getting everyone from one stage of the process to the next, whilst still allowing you to go back a step if needed. What really stands out is that you can create not just a list, but also things like charts, blank walls and mind maps so you can use it beyond just a standard retrospective. There is also a survey and polling feature so you can create other question sets that are part of your retrospective. There are other ways of prioritising beyond dot voting and it's like a Wix for meetings where you can create maps where people engage. There's still independent voting, actions and reporting which can be exported. The cost is per facilitator rather than per team, although in some cases it could mean the same thing. The summary? GroupMap is like a swiss army knife of template choices that lets you create more than just a standard retrospective meeting and can be used for a multitude of team planning, meeting and decision making purposes.
Cons to using GroupMap
GroupMap does not have Health Checks or Radars and uses basic polling and survey questions to fit that task. Grouping ideas is based on selecting or searching for common words and then creating a group from that rather than drag and drop. This can be useful if there are lots of ideas that are essentially the same. It does take a bit more time to set up a retrospective because there are options for choosing how you brainstorm, who can group and so on but you can then replicate and reuse the same workflow or map. The mobile aspect seems to only work well for list formats so you'll need a device with larger screen if you want to go beyond list making activities. There is also limited integration and the outputs are predominantly in pdf, .xls and .csv formats.
GroupMap testimonials
"The meeting that I facilitated if from up my chain of command. Every exec in the meeting thought it was super easy and slick. It allowed the team to vote together, across geos/location, and instantaneously see the results … And helped us to quickly move to pick top themes, gain owners ( without the ego and debate)."

Mi Mae Ching
CISCO
"I love your product!  It is outstanding and provides a way to facilitate meetings and come to decisions through participation."

Cinco Delgado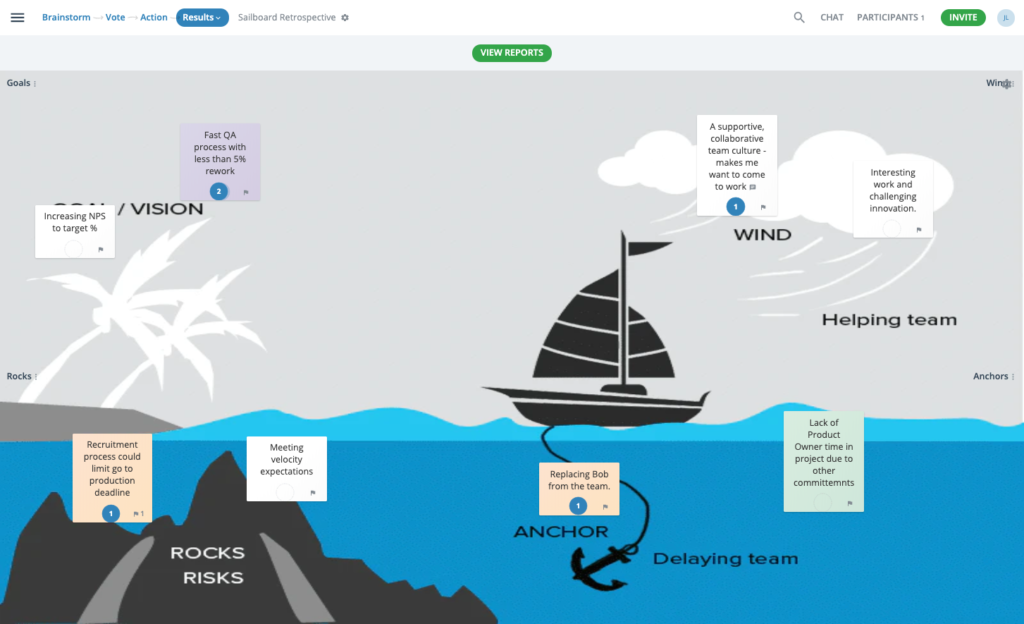 Stop wasting time in retrospectives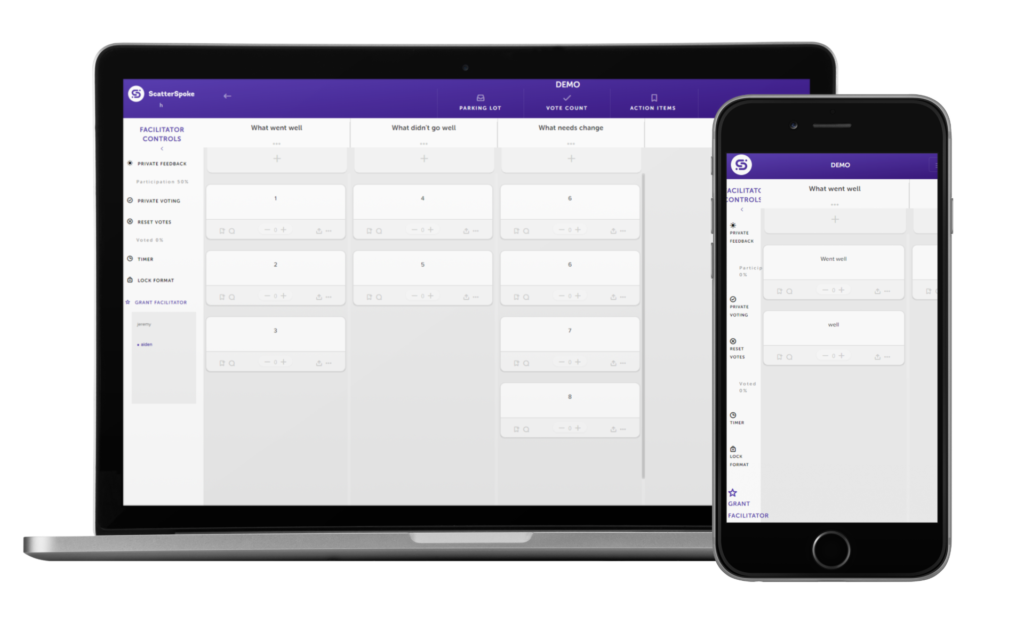 What they have to say
"Review better data instead of trying to remember what happened"
Pros to using Scatterspoke
ScatterSpoke is a well rounded online retrospective tool and although they don't have health checks, radars or a facilitated workflow, their retrospective process works well. Similar to GoReflect, it feels like a perpetual retro that can be run continuously as there are no defined steps in the process. Scatterspoke is another free retrospective tool which can be used for some retrospectives which don't require things like anonymity, private voting, integrations, timers and other facilitator controls. An interesting and rather novel aspect of Scatterspoke is that it reads through what teams have said on their cards and uses semantic analysis to track words that indicate what the team sentiment is from one retrospective to the next. (This is limited to your last 2 in the free version). This might be a way to use language choice as a way of seeing if your team is positive, neutral or negative. There is also the idea of a parking lot if ideas don't fit into a category and can be reclassified at a later stage. So if you don't' suffer from FOMO and don't mind seeing features you can't have, then Scatterspoke is a great free tool that lets you gather and group ideas.
Cons to using Scatterspoke
The main thing about using ScatterSpoke as a free online retrospective tool is the limitations they place, so it then becomes a comparison against other paid tools. It's more of a perpetual retrospective tool and isn't too mobile friendly. You don't end a retrospective, but you can lock the format. Actions are not standalone items but you can tag an idea an action item and also tag it against a category. The sentiment tracker should be reviewed with care as depending on how words are used in a sentence could change the data. Saying the last sprint was amazing versus I wish the last sprint was amazing could mean different things. You will also need to ensure that your Websockets are enabled to avoid delays in synchronization as we were getting warnings about the delay, although it was only a few seconds each time.
The era of boring retrospectives is over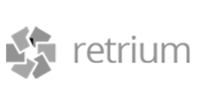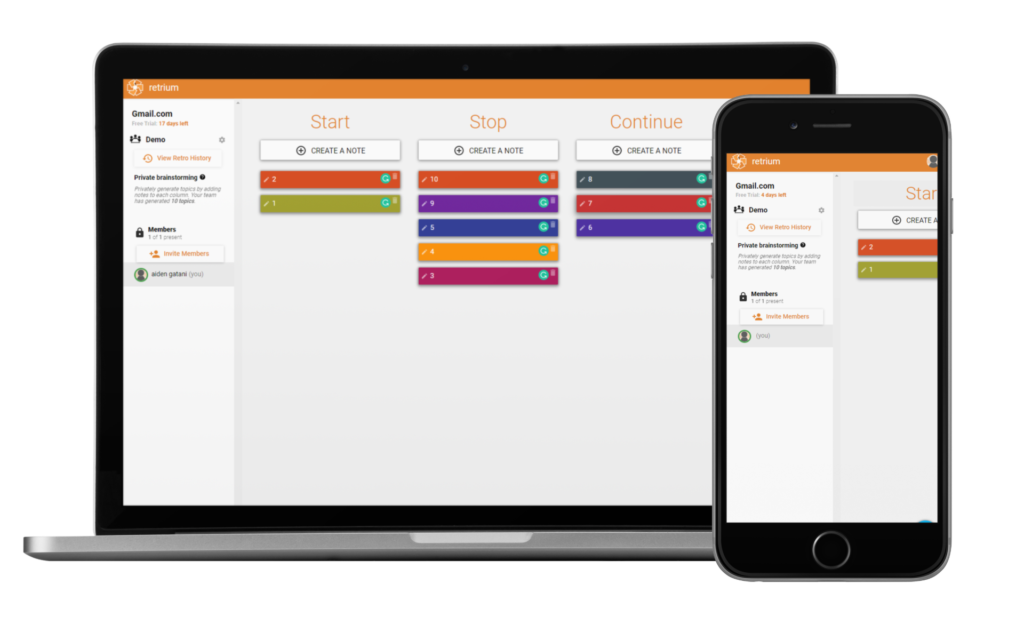 What they have to say
"Keep your team engaged using Retrium's wide variety of facilitation techniques. Continuous improvement starts here."
Pros to using Retrium
Retrium is a funded start up who has raised $2.9M over 3 seed rounds and have created a retrospectives academy that helps new scrum masters especially understand and use their platform. Besides running the normal retrospective, you can also create Team Radars with spokes that you can define to allow you to produce radars that show the average, medium, normal distribution, and range of responses, along with a set of prompting questions that you can use to facilitate discussion. This then lets you focus your retrospective on identified gaps that the team may be experiencing as well as sense checking to see if you have good development processes and your team is aligned with Scrum values for example. If you like data analysis, then the range of analysis in the radars will appeal to you.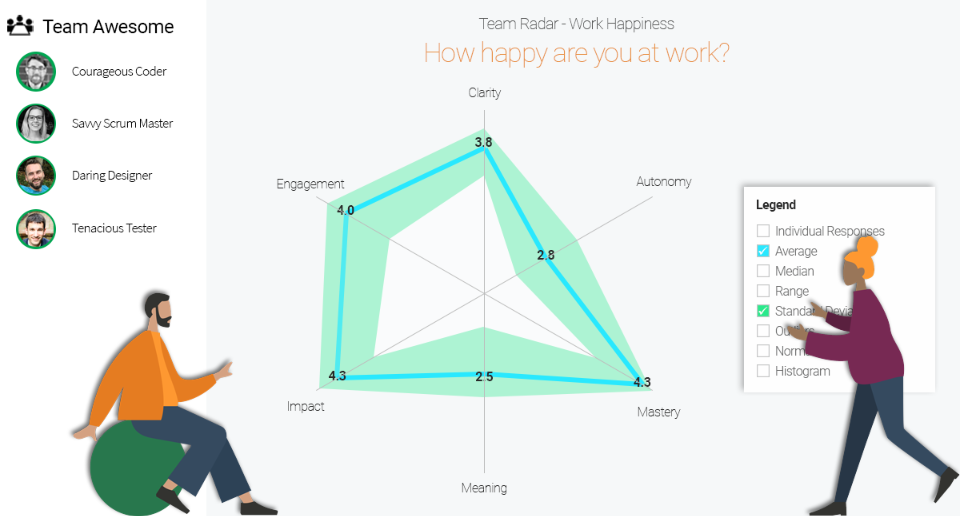 Cons to using Retrium
While the radars are pretty extensive there are some limitations to be aware of in terms of running your everyday retro, especially given the higher cost. While you can create your own custom retro, you can't save or replicate it so you do have to do it each time. Only anonymous brainstorming is supported. When prioritising, the number of dot votes is determined by an algorithm and is fixed based on the number of ideas presented. There's no way to otherwise sort ideas or comment on ideas. You can capture ideas but they are not linked to ideas and lists can't be shared. The way you move through the retrospective is also fixed, so once you move to the next stage, you can't go back a step. It's also hard to see what integrations they have, and the costs.
Another con to note is their user interface. While using it on mobile, it isn't user-friendly.
Retrium testimonials
"Awesome for Sprint Retrospective… I like how it does not show names under the user's input. People are more willing to add their opinion when they are anonymous."

Kevin R
Quality Assurance Specialist
Engage. Empower. Execute.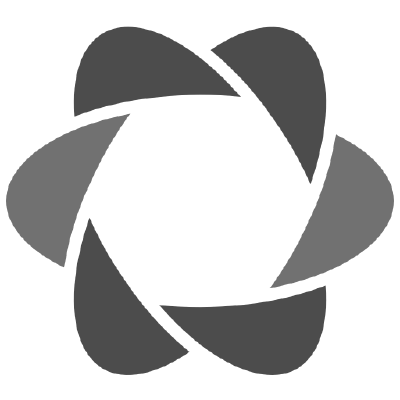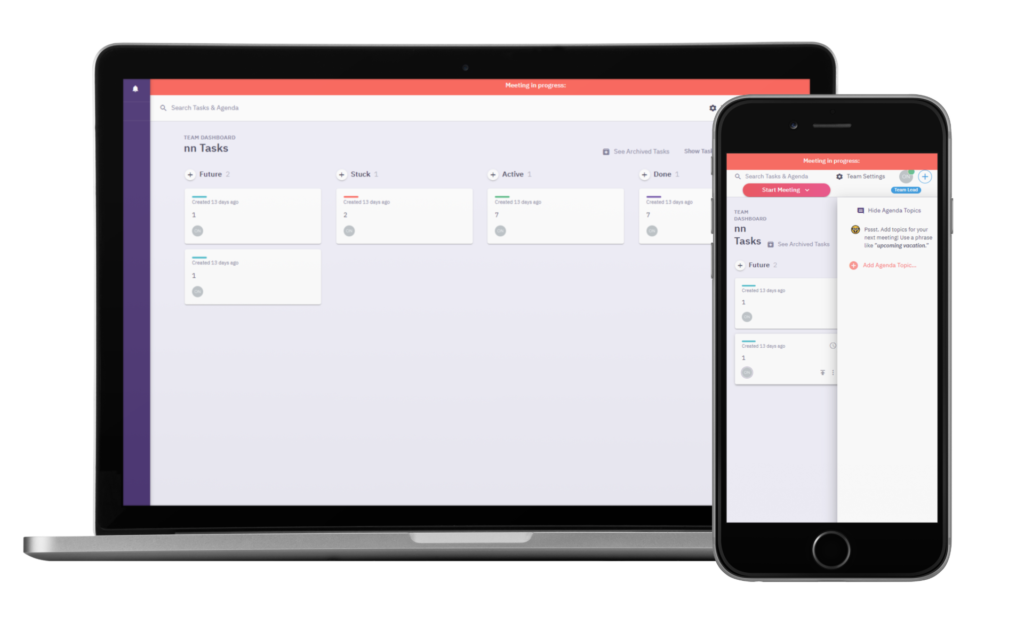 What they have to say
"Retrospectives that make good teams great"
Pros to using Parabol
Parabol, just like TeamRetro has a really nice user experience with their retrospectives, including mobile. They don't offer health checks or radars but have a format called action meetings which is much like a Lean Coffee retrospective set up which you can run separate to retrospectives. They have anopening slide at the start of each meeting that prompts for verbal feedback using a randomized ice breaker question and a mood checker for the meeting that lets the team rate each meeting on an emoticon scale. You can create customized templates and save them. Actions can also be added and tagged as private.  An interesting feature is that you can ask the team to add emoticons to their comments. These are grinning, grimacing, grin, smile, smiley and joy.
Cons to using Parabol
Parabol is one of the priciest out there and is in some cases more than triple the price.They charge based on per active user per month rather than team so it does mean that when you don't have a team member logging in, it doesn't count.
However, since action meeting and retrospectives are pretty much done in app, it means that you'll end up with most of the people logging in. Also, while there is a facilitated workflow, once you go forward to the next step, you can't go back which means you have to manage asynchronous meetings with care. Voting is also set and limited to 5 votes. Having ideas default to named users is good, but for anonymity, the user needs to clock on each idea to make it anonymous. If you have 2 teams and under, then Parabol is free to use, but then after that, the team members are added to the count.
Another downside to Parabol is their poor mobile-friendly user interface, it didn't make it easy to run an agile retrospective when half the team is using a mobile phone.
Parabol testimonials
"Parabol's coaching and software was the key to unlocking performance on our leadership team. Our meetings went from business-as-usual to focused, fun, and productive."

Ian Myers
GM of Platform, Quartz
Agile retrospectives for distributed teams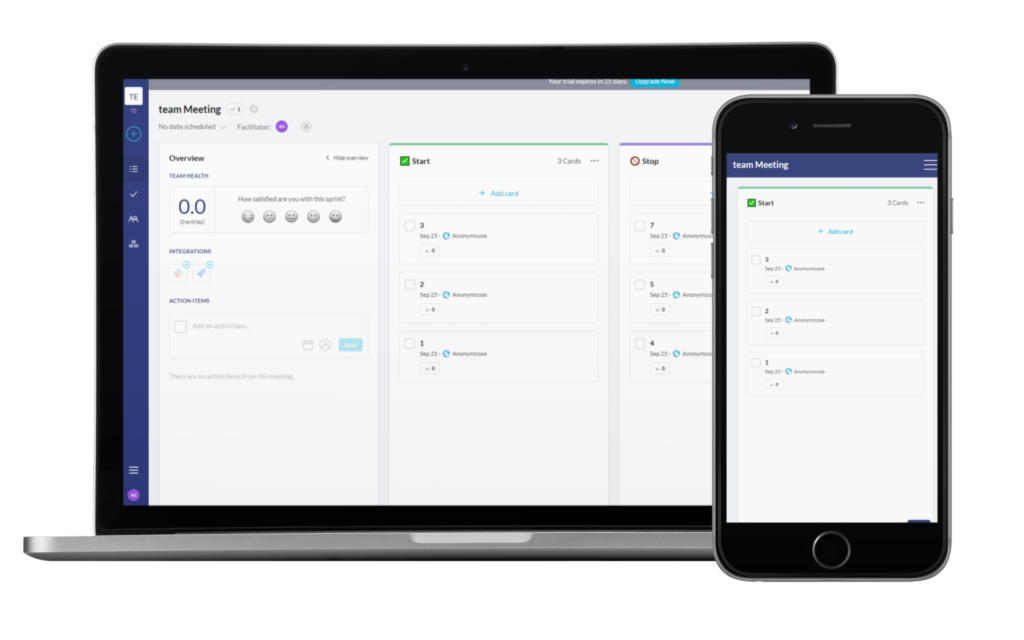 What they have to say
"Maximize your remote team's performance with a powerful retrospectives tool that helps them stick together, supercharge participation, and boost accountability."
Pros to using Sprintlio
As one of the pricier options, Sprintlio lets you run retrospectives that integrates a team health check as part of each meeting, sends you statistical information about your meeting and provides a dashboard that shows team participation and the number of action items completed Team sentiment is based on the number and type of emoticons used by participants during the retro and an emoticon based rating at the end of each meeting You can add additional documents, comments, code snippets and upvotes to ideas. In terms of idea capturing, the ideas are named and it's up to each person to make their ideas anonymous. There is also a presentation mode that basically changes the contrast and size of font on the ideas and the option to run a randomly selected retro.
Cons to using Sprintlio
Each meeting is set up as perpetual meeting board, so there's no facilitated step through of a process so it requires a lot of coordination of people to make sure they are focussing on the same activity. You can also only vote on 5 items at a time. Because the health check is built in, it's hard to run this as a separate exercise. The interface can be a little crowded because of the steps being merged and the ability to add additional items, emoticons, code and the like to each idea. It also looked like we could not group ideas or merge them which means you will need another process to handle duplication. It feels like Sprintlio would be a good choice for retros that are run remotely and consistently (like a perpetual retro) where activities are constantly shifting and changing and you can revote on what priorities make the most sense at a time and you don't need to change the format of your retrospective too much.
Sprintlio testimonials
"Our engagement has improved drastically. The product is excellent and does retros really really well."

Mabel's Labels